Belles de nuit
Les belles de nuit, the beauties of the night, these are not the young who turn night into day – these are old – old women! They are taking back the urban space that they have not entered for a long time after sunset, that no longer awaits them either. All the more strikingly, they stage their performance with choreographer Lisa Thomas and artist Justyna Koeke, turning the night streets into their stage, dancing and presenting their own world of images in bold costumes.
Konzept und Choreografie: Lisa Thomas
Konzept und Kostüme: Justyna Koeke
Komposition und Musik: Oliver Prechtl
Dramaturgie: Sabine Altenburger
Gesang: Sandra Hartmann
Mitwirkende: Frauen aus Stuttgart und der Region 60+
Choreografische Assistenz: Alexandra Mahnke
in der Eröffnung am 21. Juli im Theaterhaus.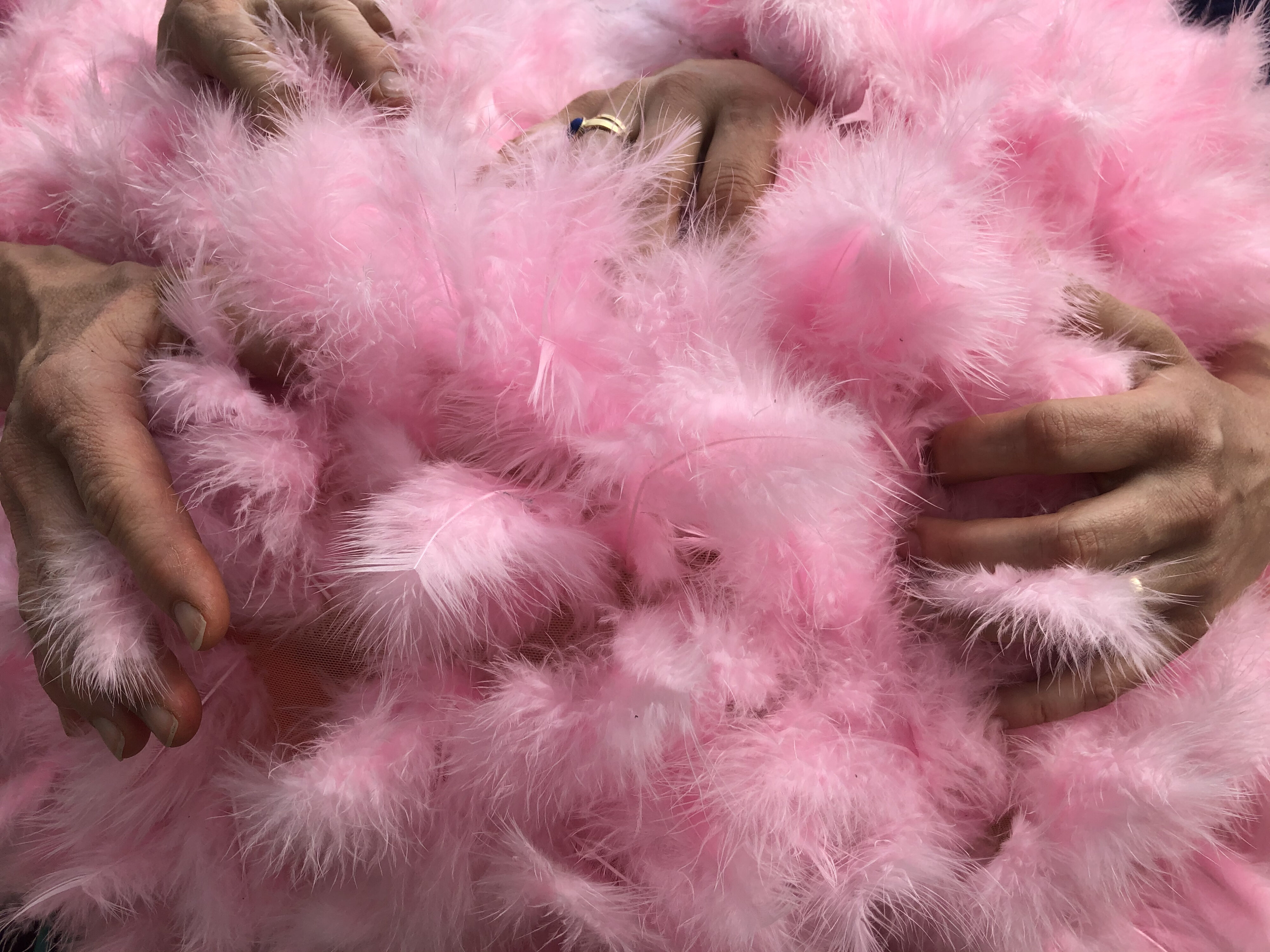 Mehr Informationen
They reclaim the night. They dare to go out into the streets and squares of their city in the darkness – in motion, dancing, erotic and equipped in such a way that passers-by wipe their eyes in disbelief – where did they end up here?
Les belles de nuit, the beauties of the night, these are not the young women who turn night into day and celebrate outside – these are old women in the literal sense of the word! Here they take back the space they may not have entered for a long time after sunset – out of insecurity, influenced by the expectations of their surroundings.
In the artificial space of Les belles de nuit they turn squares and streets into their stage, appearing carefully choreographed in an unbelievable costume collection: Passers-by will encounter a flock of shrill, weird, colourful birds, figures that oscillate between hen, crow, owl and flamingo.
The musician and composer Oliver Prechtl and the singer Sandra Hartmann complete the surreal-looking event live with a musical mixture between the worlds of techno and opera.
Lisa Thomas
has been working for fifteen years as a choreographer and dancer with elderly people, introducing them to improvisational-performative work. She is responsible for the artistic direction of the AltenTanzTheater Zartbitter and the festival VielFalten an der Tanz- und Theaterwerkstatt Ludwigburg e.V.. 2018 she initiated the interdisciplinary platform for Instant Composition: SAALFREI for improvisation and performance and is part of the artistic direction together with Claudia Senoner, Alexandra Mahnke (performance) and Oliver Prechtl (music) and member 60 + of the performance ensemble Instant PIG //Stuttgart.
Lisa Thomas is a founding member of the Bundesinitiative Tanzkunst und Alter (2017). With her work she wants to "overcome the beige in thinking, because dance reveals the beauty in every body, regardless of age and movement potential".
Justyna Koeke
was born 1978 in Krakow/Poland. The trained sculptor and performance artist works predominantly performative in public space. "Many of my self-initiated projects move at the interface of political activism." Participation and intervention are almost always the core elements of her work. For her performances she often develops opulent sculptural costumes. They are an essential part of the performative choreographies that she develops in collaboration with socio-cultural activists, musicians or theatre productions, "beyond the often hermetically sealed art scene". With precisely this openness, she has developed her very own formal language, which is based on "the visual world of carnival and the grotesque". Justyna Koeke has received many awards for her work. She passes on her knowledge and skills as a lecturer at the State Academy of Fine Arts in Stuttgart.