The Aging Body and Memory
In their two works, Boglárka Börcsök and Andreas Bolm deal with the aged body and memory. The film THE ART OF MOVEMENT vividly portrays Irén, Éva and Ágnes, three over 90-year-old dancers from Budapest who belonged to the early movement of modern dance in Hungary. In the role of a dance student, Boglárka traces how the three transformed their lives and movement practices to survive the socio-political changes of the last century. In the performance FIGURING AGE Boglárka continues the dialogue with her protagonists by embodying the dancers. With her young body she expresses the old bodies and creates an intimate encounter that brings forth the spirit of Irén, Éva and Ágnes. A choreography of memories.
The Art of Movement
(60 Min., ungarisch mit englischen Untertiteln)
Ein Film von Boglárka Börcsök
In Zusammenarbeit mit Andreas Bolm
Ein Tanzfonds Erbe Projekt
© 2020 Boglárka Börcsök & Whole Wall Films
Figuring Age
Konzept & Performance: Boglárka Börcsök
Künstlerische Mitarbeit: Andreas Bolm
Sprache: englisch
Mittwoch 22. Juli, 19:00 und 21:00 Uhr, Theaterhaus T3
The Art of Movement (Film)
Donnerstag, 23. Juli, Freitag, 24. Juli und Samstag, 25. Juli,
jeweils 16:00, 16:45, 18:15 und 19:00 Uhr, Hospitalhof
Figuring Age (Performance und Installation)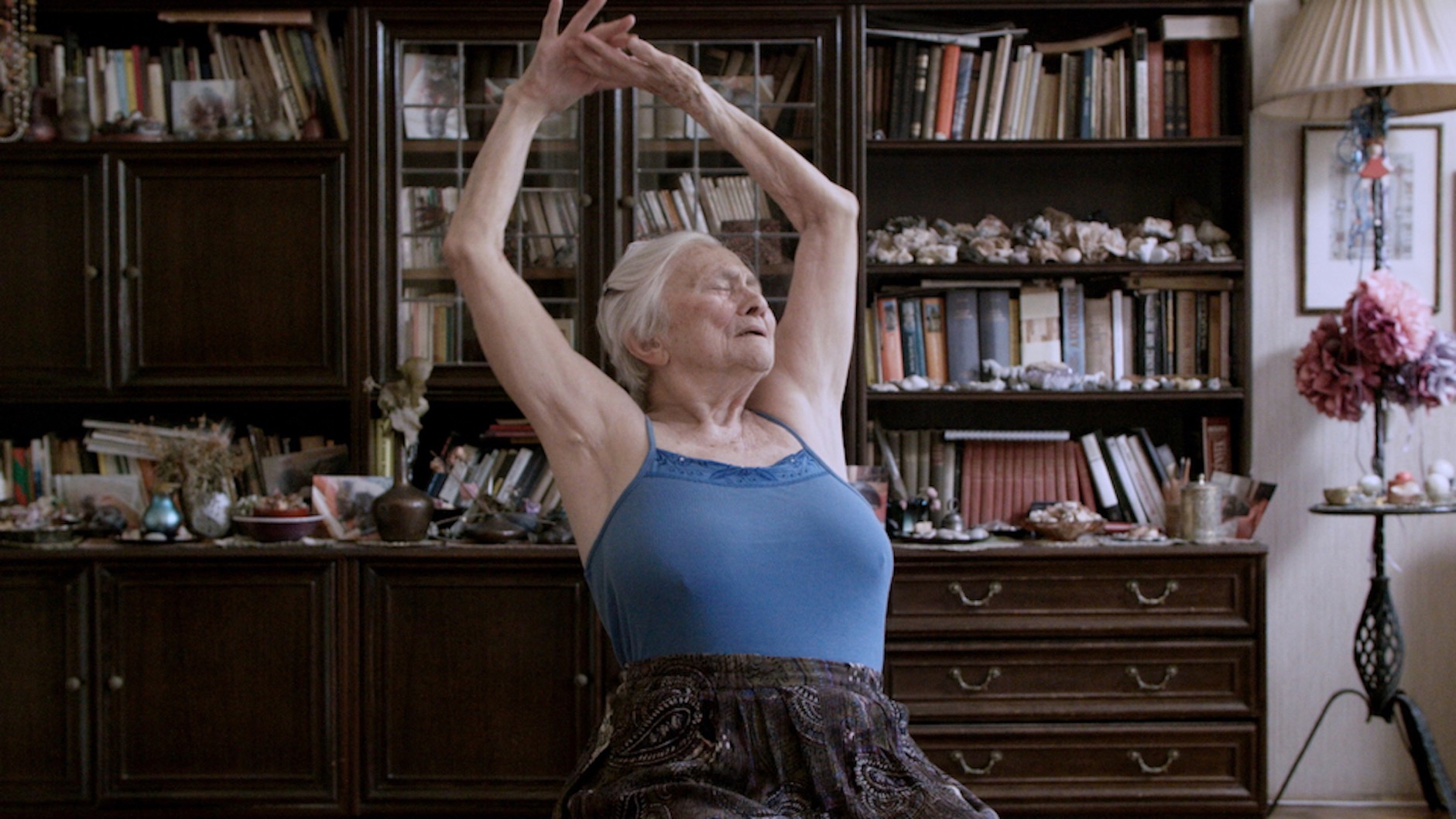 Mehr Informationen
The first time I came into contact with an aged body was the time I was nursing my grandmother. I visited her often, fed her, and washed her. Seeing and touching her old, naked body moved me and changed the perception of my own young, female body.  I began to critically question my own position and work as a young dancer and performer. I became more and more aware of how much the virtuoso and vital body dominated contemporary dance in Europe.
In 2015, I had the chance to meet several elderly dancers in Budapest, all of whom were between 80 and 107 years old at the time. Wanting to work with some of the dancers, and knowing that because of their age I could not bring them onto the stage, or out of their homes, I decided to create a documentary film called The Art of Movement with three of them. Irén Preisich, Éva E. Kovács, and Ágnes Roboz were once part of the avant-garde and modern dance scene in Hungary.
During the shooting my role changed between observer, dialogue partner, and dance student. To stimulate their bodies and memories, I started rehearsing with Irén, Éva, and Ágnes. This physical engagement continued during the film editing. As I watched the film material again and again, I began to study the gestures, movements, and personal stories of the women. The three ladies entered me like ghosts and I began to perform them.
The embodiment of Irén, Éva, and Ágnes is a work of constant becoming and transforming – a Vertigo. The old body contains not only one body. Rather, there are several bodies layered in time and decay, in memories and experiences.
Figuring Age interweaves the stories and memories of the old dancers with their everyday gestures, poses, and dance movements. The slowness and fragile heaviness of their bodies require a different economy of attention and give the visitors space to rethink and renegotiate their relationship to aging and death.
Boglárka Börcsök
The Art of Movement
Cast Éva E. Kovács, Irén Preisich, Ágnes Roboz Written & Directed Boglárka Börcsök Artistic collaboration Andreas Bolm Editing Andreas Bolm & Boglárka Börcsök Cinematography Lisa Rave Production company Whole Wall Films Production management Elisa Calosi Color & Light Andreas Bolm Sound mixing Jochen Jezzusek English Translation David Robert Evans
Funded by Tanzfonds Erbe – an initiative by German Federal Cultural Foundation, La Musée de la Danse/ Centre choréographique de Rennes et de Bretagne, Senatsverwaltung für Kultur und Europa, Berlin
The online premiere of the film on 25. Mai 2020 was supported and hosted by PACT Zollverein, Tanzquartier Wien, and MMpraxis.
Figuring Age is supported by Montag Modus/MMPraxis, PACT Zollverein, Atelier No.63, Workspace Brussels Residency Program, Hellerau – Europäisches Zentrum der Künste/ Residency Program
Part of the work was developed in the frame of the exhibition "20 Dancers for the XX Century by Boris Charmat/Terrain".
Boglárka Börcsök
Die Künstlerin und Performerin Boglárka Börcsök, geboren 1987 in Ungarn, studierte Tanz und Choreografie an der Anton Bruckner Privatuniversität in Österreich und bei P.A.R.T.S. in Belgien. Als Performerin arbeitete sie international mit verschiedenen Künstlern zusammen. Zu ihren bisherigen Projekten gehören Performances und Ausstellungen mit Kate McIntosh, Ligia Lewis, Tino Sehgal, Boris Charmatz und Joachim Koester, die sie in Theatern, Galerien und Museen weltweit präsentierte.
In den letzten Jahren arbeitete Boglárka Börcsök künstlerisch eng mit Eszter Salamon zusammen. Ihre jüngsten Werke sind Das Valeska-Gert-Museum und Das Valeska-Gert-Monument in Salamons MONUMENT-Reihe, die im Centre Pompidou, Kaaitheater, PACT Zollverein, ImPulsTanz-Festival und Museu Serralves gezeigt werden.
Boglárka Börcsök arbeitet an der Schnittstelle zwischen Tanz, Choreografie, Film-, Video- und Spracharbeit. Ihre Projekte gehen von persönlichen Begegnungen und der Praxis des Zuhörens und Schauens aus. Ihre Arbeiten beschäftigen sich mit verborgenen Geschichten, vergessenen Künstlern, ungesehenen Machterzählungen, die durch choreografische Methoden und Praktiken der Verkörperung erforscht werden. Boglárka Börcsök lebt und arbeitet in Berlin und Budapest.
Andreas Bolm
Der Filmemacher und Künstler Andreas Bolm wurde 1971 geboren. In seinen Filmen porträtiert er Menschen in ihrem sozialen und familiären Umfeld, indem er zugleich den schmalen Grat zwischen Dokumentation und Fiktion untersucht. Filme wie Ròzsa (2000), The Sleepers (2003), Jaba (2006), All The Children But One (2008) und School Files (2012) wurden auf vielen Festivals weltweit gezeigt. Jaba wurde 2006 auf dem Festival de Cannes präsentiert und auf dem Zinebi-Filmfestival in Bilbao als bester Dokumentarfilm ausgezeichnet. Im Jahr 2009 nahm Andreas Bolm am Cinéfondation Résidence Festival de Cannes teil. Sein erster Spielfilm The Revenants wurde 2013 auf der 63. Berlinale, Perspektive Deutsches Kino, uraufgeführt und im MoMA in New York präsentiert. Im Jahr 2014 hatte Andreas Bolm ein sechsmonatiges Stipendium an der Akademie Schloss Solitude in Stuttgart, wo er seinen zweiten Spielfilm Le Juge (2016) entwickelte. Derzeit arbeitet Andreas Bolm mit der ungarischen Künstlerin und Performerin Boglárka Börcsök an mehreren Film- und Performance-Projekten zusammen. Andreas Bolm lebt und arbeitet in Deutschland, Ungarn und Frankreich.